The following is taken from the campaign page of the Centre for Jewish Nonviolence:
---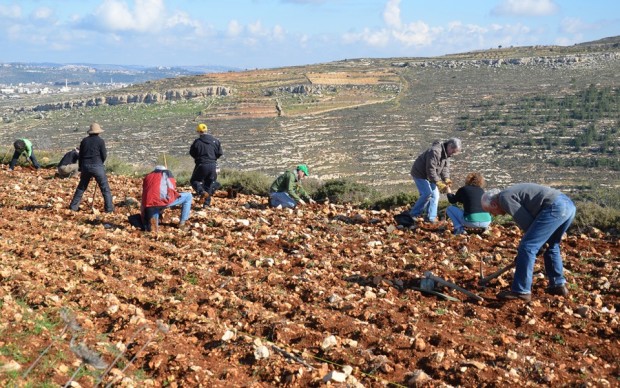 This summer, Jews from around the world are working with Palestinian and Israeli nonviolent activists to end the occupation and build a just future for all.
We're invited to stand in solidarity with Palestinians living under daily threat of displacement.
Help us stand up to injustice with courage, so that we can plant hope for a future grounded in dignity and justice.
We need your support to:
Purchase 5,000 seedlings to plant in threatened Palestinian communities
Invest in 10 wheelbarrows, 20 shovels & 50 pairs of work gloves for use in Hebron & the South Hebron Hills
Secure the long-term sustainability of this grassroots, nonviolent movement
We're thrilled to announce that we have a matching grant of $1,000! During the first week of this fundraising campaign every dollar raised up to $1,000 will be matched by our Israeli partners in All That's Left.
"The situation in Susiya is only one of many such situations in Area C of the West Bank. Several villages near ours have pending demolition orders as well. If Susiya is destroyed and its residents expelled, it will serve as a precedent for further demolitions and expulsions through the South Hebron Hills and Area C of the West Bank. This must not be allowed to happen."
Nassar Nawaja, New York Times, 'Israel, Don't Level My Village' 
For years, Jews around the world have commemorated significant life events such as bar and bat mitzvahs or weddings by giving money to plant trees in Israel. The planting of a tree symbolizes life, growth, hope and steadfastness. This summer, the Center for Jewish Nonviolence is carrying these values into the fight against the injustices of Israeli occupation. Alongside our Palestinian partners we will be planting Za'atar herbs and helping to build infrastructure for future agricultural projects in communities that are struggling under Israel's military occupation.
Agriculture is the economic life-blood of these communities, but Israeli policy and settler violence and intimidation prevent and suppress efforts made by community members to plant and harvest their fields.
Planting is not just about securing economic livelihood, it is also an important form of resistance to the Occupation. Our partners in the South Hebron Hills endure unending threats ofdisplacement as a direct result of Israeli governmental policy which has often resulted in home demolitions (for more information see Ma'an, Haaretz or +972mag). Planting trees and working the land demonstrate rootedness (Sumud) and a firm stand against the occupation, solidifying these communities' ongoing presence on their lands.
* Donations to the Center for Jewish Nonviolence are tax-deductible under US law.
The Center for Jewish Nonviolence is a fiscally sponsored project of T'ruah: The Rabbinic Call For Human Rights.
*All handicrafts the CJNV offers at various Donation Levels come from socially-conscious  Palestinian artisans and crafts-makers, such as the Women in Hebron embroidery cooperative.
Recent Media:
The young Jewish campaigners calling time on the Israeli occupation of Palestine — Oriel Eisner
Beinart and Rosen sign up for Occupation Is Not Our Judaism— Ilana Sumka
Top Ten Reasons to Join the Center for Jewish Nonviolence this Summer — Erez Bleicher
Who are we?
The Center for Jewish Nonviolence organizes international Jewish support for Palestinian & Israeli nonviolent resistance activists working to end the unjust occupation of the Palestinian Territories. Our campaign this summer, Occupation Is Not Our Judaism, will bring Jews from around the world to engage in direct action and nonviolent opposition to the occupation. We will spend 10 days with our partners in Hebron and the South Hebron Hills engaging in solidarity activism, standing with Palestinians being evicted from their homes and pushed off their land. As Jews from across the anti-occupation spectrum, we say to our own communities, to the Israeli government, and to the world that the occupation must not continue.
Will you help us stand in solidarity with the people of Hebron & the South Hebron Hills?
Answer the call and support this growing movement by contributing to our campaign.
Help us build a more just future for Palestinians, and for all the people who live between the River and the Sea.
Please give generously and Share this campaign with your networks!
Get to know the Center for Jewish Nonviolence's Leadership team here
Get more information and check out these Top 10 reasons to support the movement.
Donate to Plant Peace, Harvest Justice. 
---