[et_pb_section fb_built="1″ _builder_version="3.22″][et_pb_row _builder_version="3.25″ background_size="initial" background_position="top_left" background_repeat="repeat"][et_pb_column type="4_4″ _builder_version="3.25″ custom_padding="|||" custom_padding__hover="|||"][et_pb_text _builder_version="3.27.4″ background_size="initial" background_position="top_left" background_repeat="repeat"]
Repeated lockdowns created obvious challenges for the AJDS events- and so we went online.
Current Event: 4th August 2021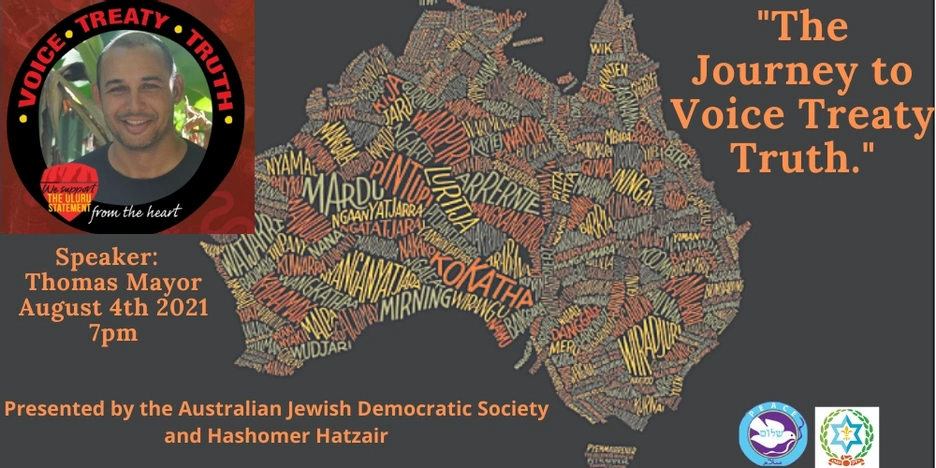 Event description
What is the Uluru Statement From The heart? How can this ancient sovereignty shine through as a fuller expression of Australia's nationhood? What constitutional and structural reforms do we need to make? And how do we walk with our First nations in a movement of the Australian people for a better future? This Forum will help us understand the Uluru Statement From The Heart, its importance to Indigenous Australians, why it is crucial to all Australians to understand it – and what role we all have to play in ensuring the progression to Voice, Treaty , Truth.
Speaker: Thomas Mayor is a Torres Strait Islander man born on Larrakia country in Darwin. From the age of seventeen, he became a wharf labourer, until he became a union official for the Maritime Union of Australia in his early thirties. Quietly spoken in character, Thomas found his voice on the wharves. As he gained the skills of negotiation and organising in the union movement, he applied those skills to advancing the rights of Indigenous peoples, becoming a signatory to the Uluru Statement from the Heart and a tireless campaigner.
Following the Uluru Convention, Thomas was entrusted to carry the sacred canvas of the Uluru Statement from the Heart. He then embarked on an eighteen-month journey around the country to garner support for a constitutionally enshrined First Nations voice, and a Makarrata Commission for truth-telling and agreement-making or treaties.
Thomas's journey continues, both in person and through the pages of his book; Finding the Heart of the Nation: The Journey of the Uluru Statement towards Voice, Treaty and Truth. The book is his gift to the campaign for Voice, Treaty and Truth. Like the Uluru Statement from the Heart, he hopes that all Australians will accept it.
Past Events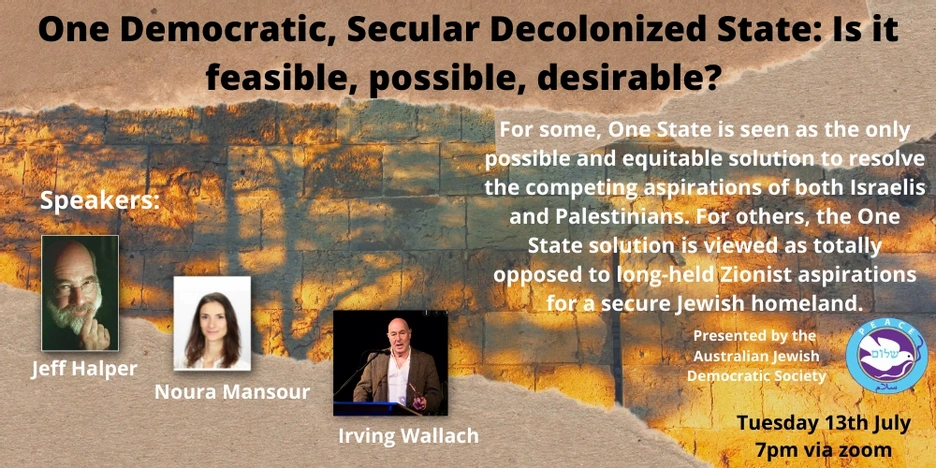 Event description
For some, One State is seen as the only possible and equitable solution to resolve the competing aspirations of both Israelis and Palestinians. For others, the One State solution is viewed as totally opposed to long-held Zionist aspirations for a secure Jewish homeland.
Jeff Halper, a long-time Jewish Israeli-American activist who lives in Jerusalem will discuss his new book, Decolonizing Israel, Liberating Palestine, with a response from Noura Mansour, a campaigner for Australian Palestine Advocacy Network, and Irving Wallach, a left-Zionist, two-state supporter and against the occupation. We will also take audience questions.
Jeff Halper argues that the only way out of the current situation is by decolonization: the dismantling of Zionist structures of domination and control and their replacement by a single democratic state, in which Palestinians and Israeli Jews forge a new civil society and a shared political community. After Jeff's presentation, Noura Mansour will respond from a Palestinian perspective and Irving Wallach will respond from a left Jewish Australian Zionist perspective.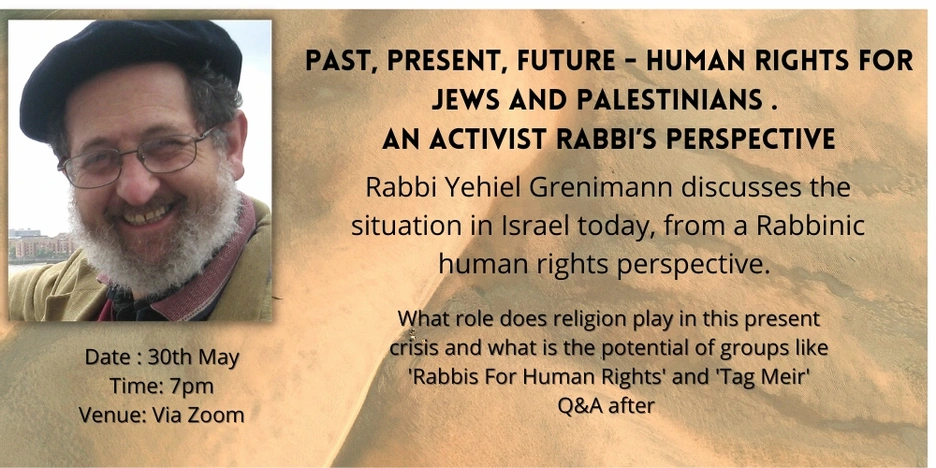 Event description
Rabbi Yehiel Greniman was director of Activities in the Occupied Palestinian Territories for 'Rabbis for Human Rights' from 2006 until 2015, an organization he has also served as Treasurer and Chairperson.
Although he has retired from his position at Rabbis For Human Rights as of 5th March 2018, he remains involved in RHR as a board member and as a speaker and teacher.
Rabbi Yehhiel Greniman is originally from Melbourne. He is the eldest child of two Polish Holocaust survivors, Boris and Hanna Green (both deceased) of Melbourne. After completing a B.Ecops at Monash University in 1973 he migrated to Israel where he served in the Israeli Defense forces Medical corps, lived on a kibbutz for two years and then settled in Jerusalem
On completing his MA in Holocaust studies at the Hebrew University's Institute for Contemporary Jewry, and a teaching diploma in the School of Education, he spent ten years in Holocaust education and was Director of the Ot Ve'Ed Institute in Jerusalem, where he focused on teaching teenagers, young adults and educators about Jewish resistance during World War II. Since receiving his rabbinical ordination from the Schechter Institute of Jewish Studies in 1991, he has worked as a rabbi and educator in the Masorti movement. Over the past 30 years he has been active in Peace Now, Oz veShalom, and other peace-oriented groups, as well as interfaith dialogue.
He is currently working on "The Partisan's Coat" a sequel to his first novel "Far Away From Where"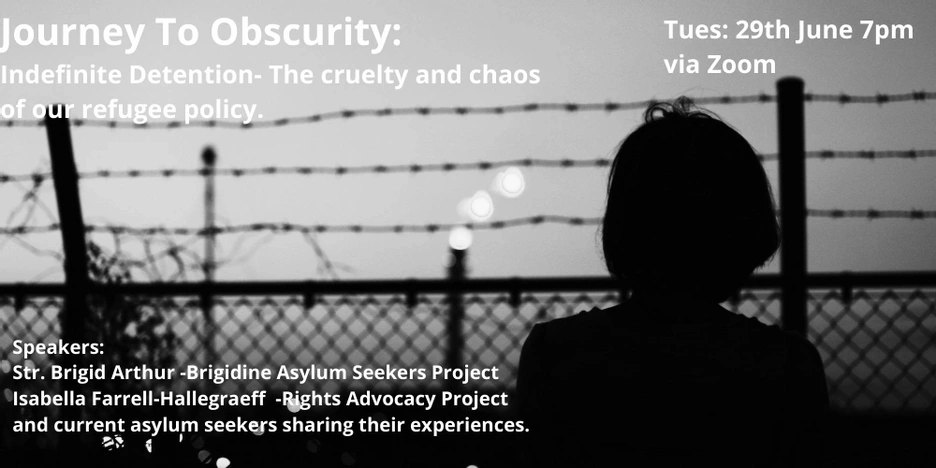 Event description
This forum is to shed light on Australia's increasingly cruel and chaotic asylum seeker policy: Ongoing detention, the shocking truth about 'bridging visas', the unrestrained power of the immigration minister and the impact on those at the mercy of all of these cruelties. 
[/et_pb_text][/et_pb_column][/et_pb_row][/et_pb_section]