Since we are proudly hosting acclaimed Gazan chef, Laila el-Haddad, for her Australian tour in April 2017, it is timely to consider Palestinian food traditions and their plight since the Nakba. This is of course the catastrophe of 1948, brought on primarily by Zionist colonisation of Palestine. With continuing military occupation, ensuing separation and atomisation of communities, and the difficulties experienced by Palestinians in every aspect of their lives, whether in  the Occupied Palestinian Territories, Gaza, or within Israel, cooking and eating Palestinian foods have remained essential to maintaining the collective and individual identities of Palestinians worldwide.
Yet around the world the origin of such cuisine is often blurred: Palestinian food is just called Middle Eastern, or is even labelled 'Israeli' on popular cooking shows and magazines, reflecting the cultural appropriation that has come with colonialism – such was the case of maftoul ('Israeli couscous'). Hummus and falafel too are touted by many as iconic Israeli foods, and are used to promote tourism to Israel. As Middle Eastern food continues to rise in popularity around the world, the ways we talk about this food can misinform newcomers to the cuisine as to the Palestinian origins of many Middle Eastern dishes. And while Israeli chefs serve and promote the region's cuisine in the world's capitals,  Palestinian history and current reality continue to be misrepresented.
Whether called Palestinian, Arab, Middle Eastern or Israeli food, this varied cuisine is undoubtedly rising in popularity not only around the world, but also in Jewish Israel. And yet, "most Israelis continue to see Palestinian cuisine as simple street food", says Osama Dalal, a chef from Acre (quoted in In Israel, a New Passion for Palestinian Cuisine). When he opened his modern Palestinian restaurant in his home town, he found that most patrons were Jewish Israelis hailing from Tel Aviv. It is difficult for Palestinian chefs to find commercial success while asserting their politics and speaking out about the conditions that underlie life for Palestinians in Israel and the Occupied Territories, and so, many, like Dalal, choose to avoid mixing food and politics.
This is not so for Palestinian chefs such as Laila el-Haddad, Joudie Kalla and Dima al Sharif, as well as countless others, who have chosen to unequivocally combine food and politics, reaffirming the origins of Palestinian cuisine and using their commercial popularity to raise awareness as to the history and ongoing human rights abuses that take place every day under Israeli occupation. They are supported by other international food celebrities, such as Anthony Bourdain, whose visit to Palestine in Parts Unknown revealed what a fearless visit to Palestine can yield (read Maysoon Zayid's account of Watching Anthony Bourdain in Palestine).
Laila el-Haddad's The Gaza Kitchen (2013), co-authored with Maggie Schmitt, is a masterpiece of Palestinian food writing, combining stories of life in the besieged Gaza strip with traditional knowledge of cultivating and preparing the basics and the more elaborate of this regional, age old cuisine. It was not until reading this book that many readers, including myself, became aware of the significant regional variance, demonstrating the complex and often misunderstood history of Palestinian life. The differences result from lifestyle: some communities were nomadic, others urbane and sophisticated. Those who migrated into urban centres such as Jaffa, Bethlehem and Jerusalem, brought with them global culinary influences and in turn affected local traditions. Such is the wonderful and unmitigated symbiosis of food culture. But there is no attempt in The Gaza Kitchen to avoid the unbearable cost of living under military siege. El-Haddad and Schmitt quote Um Ibraim, an 86 year old woman who is one of few who still remember life before 1948: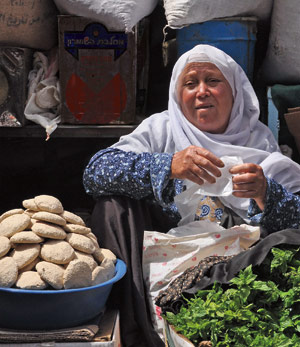 "I am telling you about how we would cook and eat in the past, but here everything is unwholesome. It is bad food. In the past, we ate very heartily and were very healthy." Her eyes gleam as she describes the wild greens and handsome squashes of Beit Tima, her home village, where her father had been mayor before they were driven out in 1948. (from Gaza's Food Heritage).
Palestinian food is all about sharing, says Kalla, author of Palestine on a Plate (2016), describing the style of preparation, service and presentation of foods in Palestinian communities around the world:
It means a lot to me to write this book, as I am Palestinian, and if I can help give a voice to a beautiful country and its food and people, then that is what I would like to do. The fact that it has Palestine on the front cover is so important for me and many people, because we are embracing where we come from and what our land has to offer. It is an ode to our history. (From An ode to the cuisine of Palestine, Al Jazeera)
Further educating the world about Palestinian foodways are non professional cooks such as the entrepreneurs of Noor Women's Empowerment Group, which runs regular cooking classes in the Aida refugee camp. There you can learn about more than the cuisine's main staples: olives and olive oil, yogurt and clarified butter, legumes, grains, lamb and vegetables, particularly eggplant, tomatoes, cauliflower and zucchini. Now let us read more about, cook, and eat the inspiring dishes prepared with these regional ingredients.
To watch Laila el-Haddad's cooking demonstration in Melbourne, April 2017, book your tickets now and visit our dedicated page for up to date information on other appearances.


---
Further Reading
Why sahlab (and hummus) still aren't Israeli by Ali Abunimah
A new generation of Palestinian chefs poised to conquer the world by Ronit Vered
Modernity and Authenticity: The Evolution of the Palestinian Kitchen by Ali Qleibo
Kitchen of Palestine

More suggestions? Write to us at [email protected]